With the growing popularity of stainless steel in the plumbing industry, Plumbeeze is pleased to be the first to introduce 304 stainless steel PEX fittings with NSF-61 certification for potable water to the retail market. Manufactured to ASTM-F1807 Standard for metal crimp type PEX fittings. The durability and superior corrosion resistance of 304 stainless make them ideal for all water conditions and can prolong the life of your system. A superior option to brass and poly PEX fittings which are currently the primary materials available in the marketplace.
In this blog post, we will discuss the applications, features and benefits of stainless steel PEX fittings compared to brass and poly PEX fittings.

Stainless steel PEX fittings are available in elbows, male and female adapters, couplings, tees, plugs, ball valves and polybutylene to PEX transition couplings. They are 304 grade stainless steel, available in sizes 1/2", 3/4" and 1" and are designed to use copper crimp rings or stainless steel pinch clamps, for fastening PEX tubing and PE-RT tubing.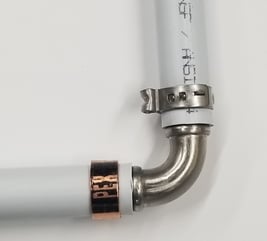 Premium stainless steel crimp PEX fittings are an excellent choice for residential, commercial and specialized plumbing applications from large condos in the cities, to plumbing water systems supplied by ground well water in rural areas.

Features and Benefits
Corrosion Resistance
304 grade stainless steel provides good corrosion resistance and is excellent for highly acidic and undesirable water conditions. Stainless steel is not subject to dezincification which is an issue with high zinc, yellow brass PEX fittings. While poly is not susceptible to corrosion, stainless steel is much stronger. 
Superior water flow
Most plumbing systems have numerous 90° elbows, traditional brass elbows have an abrupt "Square Corner" which result in much higher friction loss and reduced flow. The unique sweep bend 90° elbow design greatly reduces turbulence and friction loss in the system. The sweep bend elbows reduce friction loss, providing increased flow rates in the PEX system. 
Poly PEX fittings, have a thicker wall to increase strength and durability. This increased wall thickness reduces the inside diameter, which in turn, results in a smaller flow passage. The high strength of stainless steel allows for a larger flow passage which provides 23 to 36% greater flow area through the fitting.  ASTM-F1807 stainless steel fittings having less restriction, providing better flow through PEX pipe installation.  In other words, less system pressure is required with stainless steel fittings to achieve the desired flow rate.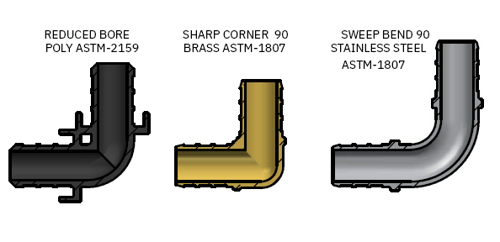 Durable
Stainless steel is significantly stronger than brass, and up to 2-1/2 times stronger than poly materials and suitable for higher pressures and temperature variances. The photos below show the damage to the different materials when subjected to a force load in a tensile testing machine during quality testing.
Plumbeeze stainless steel crimp PEX fittings have an industry leading 30 year warranty. When used and installed correctly, stainless steel PEX fittings have a very long life.
Chemical Compatibility
304 stainless steel is a viable option for transferring a wide range of chemicals in special applications. They are suitable for use in hydronic heating systems using anti-freeze, whether the system is using Glycerin, Ethylene Glycol or Propylene Glycol.  Glycol pH level should range between 8.0 and 10.0 to minimize corrosion and glycol degradation and should be analyzed yearly for the pH and freeze protection levels.
P

eace of Mind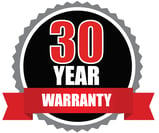 Plumbeeze stainless steel crimp PEX fittings have an industry leading 30 year warranty. When used and installed correctly, stainless steel PEX fittings have a very long life.
In summary,  stainless steel crimp PEX fittings can be used in every application. They offer peace of mind and are superior in flow rates, corrosion resistance, durability and life span. For these reasons Plumbeeze stainless steel PEX fittings are an excellent choice for your next plumbing project.